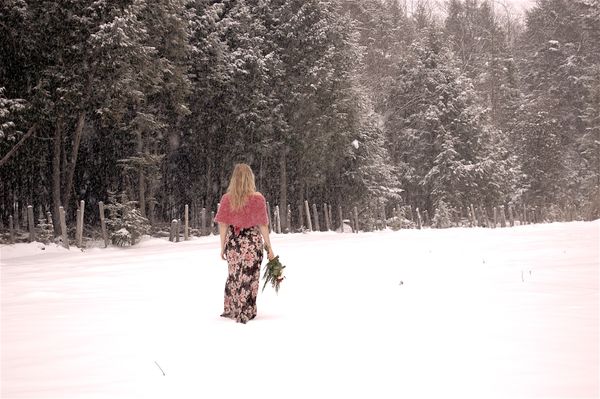 Should Old Acquaintance Be Forgot, And Never Brought To Mind ? 
These last years brought along a good load of hardships.  A collection of losses and troubles made me very weary to the point where hope and joy were going adrift.  I would do what I had to do, letting myself be carried away into the current of life, just like a fallen leaf on the river, its delicacy being tormented by the wild torrent.  To a certain point, I came to think it would be alright if life was to be taken away from me since I felt I was such a mess.  So negative.  I felt I was swimming against the current; I couldn't find a reason to be here and struggled to find peace in the midst of my own turmoil.  And, at the same time, I had every reason to be here and I was feeling so ashamed, and guilty to feel so sad, because I had everything, compared to so many people in the world who deal with far worst issues.  But this was my reality, my feelings, although I tried to fight them away. 
A serie of death of loved ones, the end of a relationship, my musical dreams being swept away, rejection over rejection; I would wake up in the middle of the night with the feeling of a fist hitting my core, and my heart, drumming its way out of my chest.  I was terrified and overwhelmed with my life. 
We've Wandered Many A Weary Foot 
I was counting the moons, hoping that things would get better on the next Full Moon, or maybe on the next New Moon, and so on, for many months.  Then, maybe next season, when Summer is in bloom, I would feel alive and happy again?  But that didn't happen, and the expectations I had just made me feel worst. I was physically tired, emotionally scattered; I felt miserable. 
I began to give up on my dream to do music and tried to drag it away.  But it always came back to me.  Like a faithful friend.  My truest friend.  My essence.  My banjo and my guitars only asked to be picked up, and my voice begged to sing.  Yet, I was fighting my calling, with words in my head resonating « I'm no one.  I'm not good enough.  I don't have what it takes to be a musician.  A musician ?  How dare you think of yourself this way ? »  I was my own worst enemy.  I had been stuck in this self-sabotage way of thinking forever, with my confidence hiding under my feet.
But Seas Between Us Broad Have Roared 
I met people on the way and I felt overwhelmed, hoping they would save me, from myself, probably, relying on them to make me feel better.  I craved for love, for someone to love me, exclusively. But, just like gravity, the more I held on to them, the more they were sending me away, and the worst I felt.
Until I felt Nothing. At. All. 
Then, it became very dark. 
My horses died, my dog died.  My car was profoundly rotted, a mirror of myself I would sometimes think.  The divorce was proclaimed.  I was a thirty-three years old homeless, career-less person, with no direction, single, and unlovable I thought, with no children of my own.  I felt so different from everybody, so estranged from this world. 
We'll Take A Cup of Kindness Yet, For Auld Lang Syne 
I. Needed. Change. A revolution in my way of thinking. It was a survival matter. 
So, I started to sing my heart out, literally. I started making decisions, very boldly, as if I was on the automatic mode, my heart being the pilot.  I moved out of my apartment in Montreal to go back to live with my parents in the countryside.  I needed to take a break from the financial burden of working only to pay my rent, and from the very isolating environment I had put myself in.  I had to break the walls open.  I planted a big garden of dreams, and few vegetables as well. I bought a new car, with the help of my father.  I rested, all summer.  I realized I was so exhausted, and that I should have taken a break earlier, in the midst of the chaos.  I was recovering physically from the emotional wounds and the trauma I had from having put myself into a very toxic relationship for many years. 
I red loads of books, found the Artist's Way, and started to write and compose songs, every day.  I watched them grow. I took a flight to Poland where I was hosted by my dear friends Magda and Radek, who supported me in my musical quest. I had planned to record an EP that evolved into my debut album, Farewell Winter.  For once in a long time, I was deeply happy. I had binged on so many articles where people talked about the importance of finding your calling, and it always felt so unrealistic to me.  But I started to believe in the unbelievable, I prayed, I recited a list of mantras, some I didn't even believe in, but repeated them anyway with a glim of hope that by naming them, they would materialize.  ,Yet, I arrived to my destination : music.  Then, things started to unfold, and it felt, and still feels like a fairytale. My own fairytale, where no prince came to rescue me, but the love and respect I regained for myself and for my dreams did.
My dearest, hold on to life; don't lose track of hope.  Do what you love even if you are against the World.  Even if nobody support you.  They won't; they don't have to.  Hold on to yourself, unleash your soul.  Let your truest self shine brightly.  Befriend yourself.  Be your best friend.  Be love.  Be grateful.  Thank yourself, people and situations, excessively, sometimes against your willuntil it flows naturally out of your mindset. 
My debut album Farewell Winter is an homage to the most challenging time of my life, to express the feelings I've experienced through my hardships, but also my thankfulness to it.  You may be entering a Dark Winter yourself.  I only hope you can embrace the beauty there is within the most difficult times.  If you are overwhelmed, please, reach out.  I only hope you can find some comfort in my songs, in my art, and know that you are not alone with your feelings. Seasons change, and so will your hard feelings, and if you let yourself open to the flow of life and believe in its magic, everything is possible.  Create your reality.
Have a very happy new year!